Sedco 711 Semi-Submersible Rig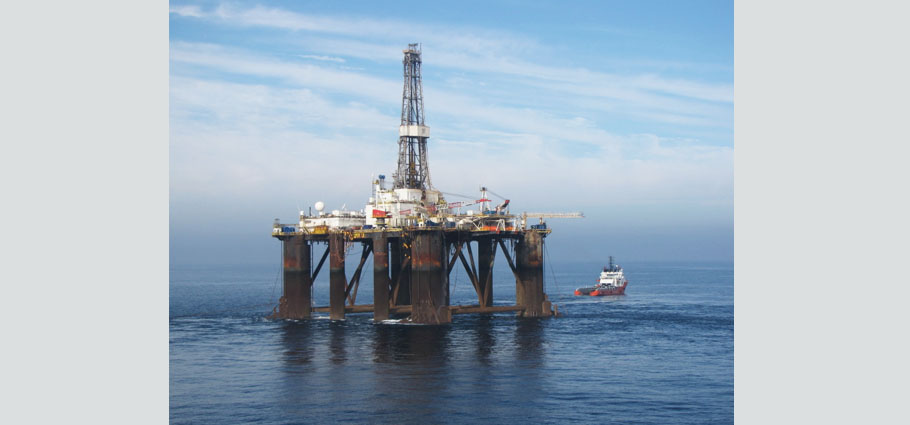 1: (BOD) Ballast Overboard Discharge Valves (ABS Approved)
On behalf of Transocean, Monitor Systems were asked to provide ABS Approved Ballast Overboard Discharge Valves for two of their semi-submersible rigs working in the North Sea; currently operated by Maersk Oil and Talisman.
STABILITY CONTROL: Ballast control systems are a vital part of semi-submersible rigs. The ballast control system is made up of a network of pipes, valves, pumps, and tanks, which work together as a liquid control system to keep the drilling rig on an even keel.
On semi-submersible rigs, the safety of all personnel depends upon the stability of the rig. This stability is created by a special installation on-board that organises the amount of seawater in several ballast tanks; the Ballast system.
The BOD system supplied by Monitor Systems included a 12" Butterfly Valve with 4-20mA position feedback, spring return fail close Pneumatic Actuator with IP66 rated Electro Pneumatic Positioner. A separate stainless steel control enclosure was provided to house the solenoids, check valves, throttle valves etc that are required to maintain the existing control philosophy and keep proportional control over the pneumatic valve.
FAT: The four solenoid control enclosures underwent a full FAT to assure correct operation. Each enclosure was 'leak tested' to confirm all pneumatic fittings were secure and tight. The enclosures were then tested 'electrically and pneumatically' to confirm correct operation, with the three valve control functions 'open, close and hold' being tested.
2: Reverse Osmosis Watermakers

Monitor Systems recently supplied the Sedco 711 Semi-submersible rig with a new reverse osmosis watermaker. Monitor Systems provides its customers with reliable and economical supplies of fresh water, generated from seawater using the reverse osmosis process, and is committed to increasing customer satisfaction through product innovation.
Monitor Systems has build a reputation for delivering high quality, innovative integrated water systems solutions for the offshore oil & gas industry.
Monitor Systems Engineering are proud to be the exclusive UK (North Sea) distribution partner for C'treat Watermakers. With nearly 30 years of innovative engineering technological development and field testing, along with hundreds of systems installed and operating worldwide, Monitor Systems watermakers combine the latest proven technology and advances in reverse osmosis watermakers (desalination watermakers).
Monitor Systems can supply the most simple, reliable and economical desalination watermakers for the offshore oil and gas industry. As a combined strength, Monitor Systems have a qualified in-house team of engineers that can supply, commission and support.
Monitor Systems can provide seawater and freshwater filtration, pumping and storage packages, ultraviolet and chlorine sterilization packages and completely custom engineered water systems for customers around the world.
In Detail: The Reverse Osmosis watermaker consists of pre-treatment (multi-media, bag, & cartridge filters), pumping (single-stage centrifugal) and permeation (fresh & brine water separation by reverse osmosis) sections, rigidly mounted to a single, rugged, welded-steel frame.
The simplicity of Monitor Systems watermakers allows for easy operation and maintenance in demanding offshore environments. Unique system technology provides excellent reliability and constant water production without chemicals.
Monitor Systems provides a full range of accessories for all reverse osmosis watermakers supplied.
3: (AIS) Automatic Identification System: System solutions for monitoring and marking cold stacked rigs
Monitor Systems builds bespoke monitoring and marking systems for cold stacked rigs, giving peace of mind and rig compliance while the asset is stacked.
Monitor Systems supports the marine and offshore oil & gas industry worldwide with low energy and solar powered monitoring solutions for cold stacked jack-up rigs, semi-submersible rigs and oil platforms. Our solutions include solar powered battery operated systems with built in options such as marine navigation lanterns, alarms and obstruction lights.
Our cold stacked rig monitoring systems can provide rig owners with daily GPS reports and battery voltage health data via satellite. Our bespoke systems and standard system packages can be easily expanded to include other data such as wind speed, wind direction, pitch and roll. All data can be reported back to a number of land based server options including the Port Authority's Office, with web browser software for viewing, editing and configuring.
Monitor Systems have provided monitoring and marking systems for a number of cold stacked rigs in the North Sea and throughout the world.
Cold stacked rigs are 'marked' by the use of navigational obstruction lights and the rigs position is 'monitored' and relayed via satellite. The (AIS) Automatic Identification System transmits a rigs/vessels position via GPS every three minutes.