Group News: December 2014
<
click here
to go back to Group News Index: December 2014
The largest jack-up rigs of the future
.... intrepid ! ... 206.8m leg length, ... fearless and adventurous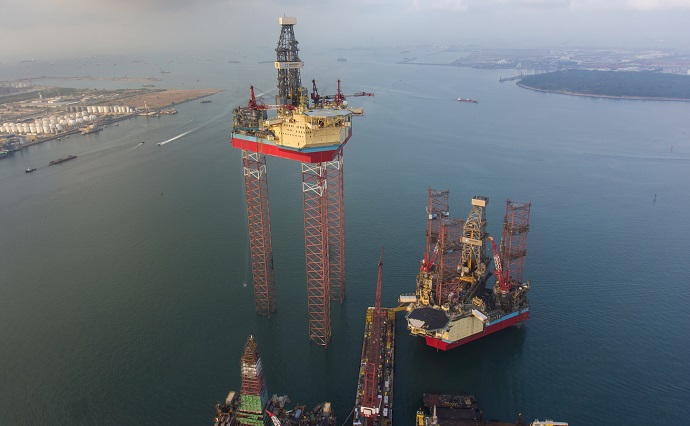 The new generation jack-up rigs are becoming state-of-the-art eco-structures. They are enormous, energy conscious structures equipped with Internet cafes!, ... they are fast becoming 'truly' environmentally friendly, designed to use less fuel and fewer emissions.
These new generation jack-up rigs will allow for faster drilling processes, faster in-field rig moves and many other operational advantages. The crew will be furnished with ergonomically correct tables and chairs, lower windows in the mess room to enjoy the sea view, a movie theatre with special chairs and a well-equipped recreation room .... the future is with us!
Currently there's about 500 jack-up rigs in operation around the world and more than 300 are 25 years old or older. The global fleet is in the midst of a "replacement cycle" and shipyards are expected to stay busy building new generation jack-up rigs for Maersk, Transocean, Ensco and other oil & gas companies well into 2016 and beyond.
Jack-up rig systems survey
Supporting our clients in every corner of the globe
Monitor Systems technical surveys include the survey/reporting of all safety critical instrumentation and monitoring systems in hazardous and safe area environments on offshore jack-up rigs, semi-submersibles, platforms, drillships, support vessels and FPSOs.
Our rig survey experience has allowed us to survey over 150 rigs worldwide since 1997, supporting our clients in every corner of the globe.
Upon completion of a survey, our technical engineers issue a full and detailed report, classifying the deficiencies and problems with the system, together with a full technical proposal outlining how the system could be repaired, upgraded or replaced. Our technical survey gives you a complete picture regarding the current operation, condition and integrity of your system and associated equipment.
The most common systems that Monitor Systems survey are ballast control & tank gauging, blow out preventer control system (BOP), bulk tank monitoring, water tight door monitoring, brace & void leak detection, anchor windlass monitoring, machinery alarm monitoring, well control (HPHT) and other safety critical and monitoring systems.
Research and Development: Monitor Systems utilise nearly two decades of knowledge and industry experience gained in product surveys, systems engineering, development, manufacture, installation, test and certification to help with the many issues and problems faced whilst designing and developing new product technologies. Our engineering team have worked on many projects for many operators worldwide, from initial concept, prototype development, product design through to manufacture, test and on-location operations.