Group News: April 2014
<
click here
to go back to Group News Index: April 2014
Assessed on the quality of your last job
Measuring and Monitoring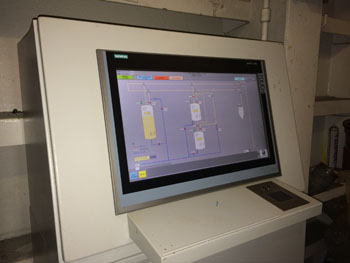 Monitoring various systems on offshore support vessels, drilling rigs, FPSOs, FSOs and production platforms is the company's core area of expertise. There is no doubt that we are quickly becoming the preferred suppliers for many rig owners, rig managers and technical departments to carry out specialist engineering projects. Our experience to date covers hundreds of systems designed and tested for many major drilling contractors worldwide.
Monitor Systems truly believes that everyone is assessed on the quality of their last job, this is no exception here, where we strive to maintain our reputation and number one position in the industry through focus, best practice and good team work.
Above: Touch screen HMI showing Bulk Tank System control.
Held in high regard for complex problem solving and the unique ability to provide reliable and workable monitoring and measurement solutions, the extensive industry experience, innovation and commitment of our technical and engineering team has been fundamental to the company's success and positioned us as one of the preferred vendors to an increasing number of leading drilling companies and rig operators.
Monitor Systems were asked to upgrade the Bulk Tank Control System on the Sedco 711. New guided wave radar sensors were installed in all six bulk tanks to measure bulk level, also giving bulk weight and volume calculations.
A remote display panel assembly was supplied in a wall mounted GRP enclosure with glass viewing aperture. As per standard procedures, we carried out a full factory acceptance test procedure at our Aberdeen facility prior to delivery.
Brace Leak Detection System: As part of the upgrade of the rig, a provision was made for a Brace Leak Detection System utilising sixteen sensors. Monitoring each individual brace prior to installation was by manual means.
Above: One of the stainless enclosures showing system electronics.
Each leak detection sensor was located down the column at the bottom of the sounding tube connected to the brace. The sensor signals will now be received in the control room.
Visual indication along with a sounder was fitted to the display panel giving a warning of any leak in any of the monitored braces.