Group News: 2012 and Archives
<
click here
to go back to Group News Index: 2012 and Archives
Watertight door monitoring system for North Sea drilling rig
Energy Enhancer Jack-Up Rig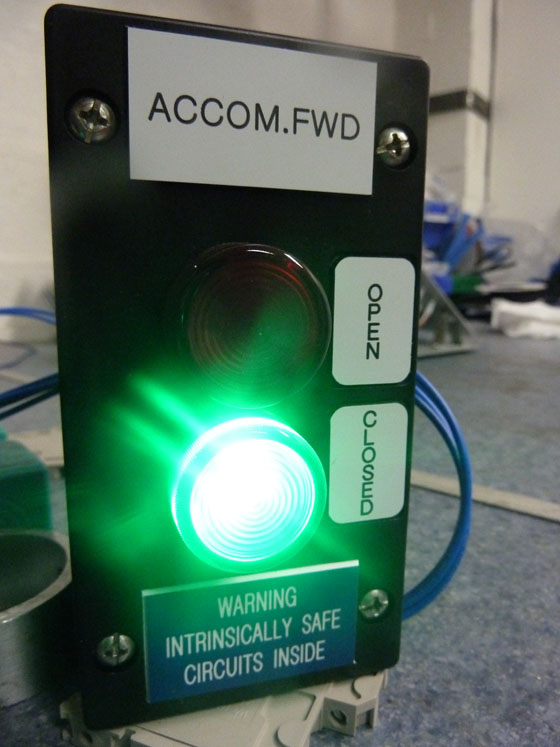 Monitor Systems were contracted by Northern Offshore to develop and supply a watertight door monitoring systems for the 'Energy Enhancer' jack-up drilling rig operating in the North Sea.
Northern Offshore awarded Monitor Systems Engineering the project on the strength of their monitoring and instrumentation knowledge, industry proven capability and previous systems supplied.
Key criteria for the project was the ability to take on the project and complete within a four week period; this was met by the engineering team and staff at Monitor Systems, who pulled together to meet the tight deadline set by Northern Offshore.
The Monitor Systems team reassured Northern Offshore that - ... " Monitor Systems were capable of delivering the system based upon the experienced gained on previous watertight systems recently provided."
The watertight door monitoring systems monitors seventeen (17) watertight doors on the jack-up drilling rig. The system includes an annunciator panel installed in the display enclosure to accommodate twenty (20) alarm inputs to meet future requirements.
The watertight door monitoring systems is integrated into the 'PC' network so that the Rig Manager can view at all times, the status 'closed or open' of all doors at any given time, day or night. This allows the 'Energy Enhancer' Rig Manager to make quick decisions in regards to the status of the doors when presented with disruptive tidal storms, inclement weather, safety and/or hazardous accidents etc.