Group News: 2012 and Archives
<
click here
to go back to Group News Index: 2012 and Archives
Success in Singapore and Kuala Lumpur
Successful sales and project negotiations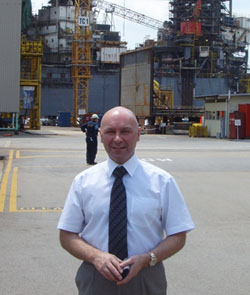 Monitor Systems Scotland Ltd Managing Director Brian Sinclair and Greg Bridgstock Monitor Systems Asia-Pacific Regional Technical Representative confirmed successful sales negotiations and project related meetings with existing and new clients in Singapore and Kuala Lumpur.
" ... the trip was a great success, not only did we receive several good enquiries from potential new clients, we had valuable on-location time to discuss current workload and business in the region" ... commented Brian Sinclair.
Monitor Systems currently have engineers in the Asia-Pacific Region working on a Ballast Control System.
The trip served as a joint opportunity to meet up with everyone involved and to make sure that all current business obligations were progressive and maintaining the quality and standards set out by Monitor Systems engineers and staff.
Monitor Systems are now in discussion with new clients in Singapore and Kuala Lumpur and it hopes to maximise the benefits of its busy B2B tripe with new business.
"I would like to take this opportunity to thank everyone who gave their valuable time, energy and hospitality during my visit" ... Brian Sinclair (Managing Director).