Group News: 2012 and Archives
<
click here
to go back to Group News Index: 2012 and Archives
Reverse Osmosis Watermaker
Borgsten Dolphin Semi–Submersible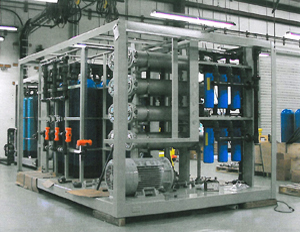 The contract was awarded to Monitor Systems in the first quarter of 2012 with delivery and installation to take place in the Summer.
Monitor Systems (Exclusive UK based C'Treat agents) were chosen by Dolphin Drilling to provide a new Reverse Osmosis Watermaker on the strength of having C'Treat trained engineers and staff based in the UK, combined with C'Treats worldwide reputation of providing top quality and reliable Reverse Osmosis Watermaker units.
One of the key requirements was for Monitor Systems to work very closely with C'Treat, providing accurate drawings to accommodate the Reverse Osmosis Water Maker on the Borgsten Semi–Submersible Rig and to accommodate the needs of Dolphin Drilling with the exact rate of flow required.
Other key requirements included the project management and commissioning of the Reverse Osmosis Water Maker unit on board the rig. Monitor Systems were to provide a work/time/schedule and provide the key engineers to accommodate the final Commissioning.
Working closely with C'Treat and Dolphin Drilling, Monitor Systems Engineering were to accommodate the servicing and consumables that the Reverse Osmosis Water Maker required by way of Monitor Systems in-house C'Treat trained engineers.
Having a Reverse Osmosis Watermaker unit installed on the Borgsten Semi–Submersible Rig is of huge benefit to rig workers and vitally important to Dolphin Drilling. They can call upon Fresh water at any time, day or night without having to call upon water been bunkered (stored). Being dependent on bunkered water can present issues with inclement weather causing disruption to the regular shipment of supplies which can in turn create a shortage of potable water and may lead to the down-manning of rigs/platform. In addition bunkered water may also present a higher risk of cross contamination due to the handling process involved. Dolphin Drilling and workers can now be assured that the water it uses on the rig conforms to the very highest standard of purification and hygiene, available 24/7.