Group News: April 2015
Mud Pump Control Console
New Alarm and Control System for Transocean Amirante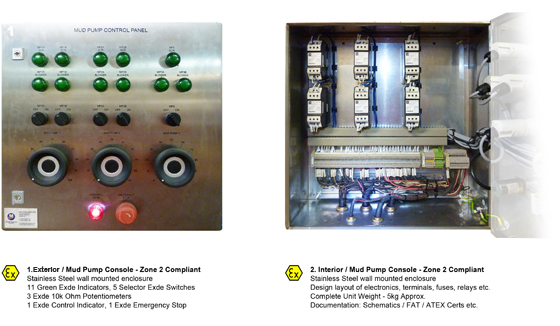 < left: Stainless Steel Zone 2 Compliant Mud Pump Console / Exterior Facia and Interior Electronics.
Monitor Systems were asked to design, manufacture, install, test and commission a new Zone 2 Certified mud pump console for the Amirante Semi-submersible. Three mud pumps operate on the Transocean Amirante, and the new console had to incorporate the control of all three pumps in one stainless steel wall mounted enclosure.
The accurate and safe control of the mud pump on any drilling rig is of huge importance to the operator. The drilling rig mud pump is the main device on the rig designed to circulate drilling fluid under high pressure (< 7,500 psi) down the drill string and back up the annulus.
Mud pumps are considered vital to the operation of the drilling rig. If the mud pumps fail it affects production and can be very costly to repair due to the downtime in production.
Monitor Systems have an experienced team of in-house engineers that are knowledged specifically in the design, manufacture, FAT and installation of Zone 2 Atex compliant control panels, enclosures and instrumentation.
Our custom design and engineering service means that we are able to build control, monitoring and instrumentation systems to unique and compliant requirements.
"We have significant experience in understanding our customers' needs and objectives, as well as mobilising the necessary resources required to deliver projects both on time and on budget around the world." commented Brian Sinclair, Managing Director at Monitor Systems.