Tank Terminals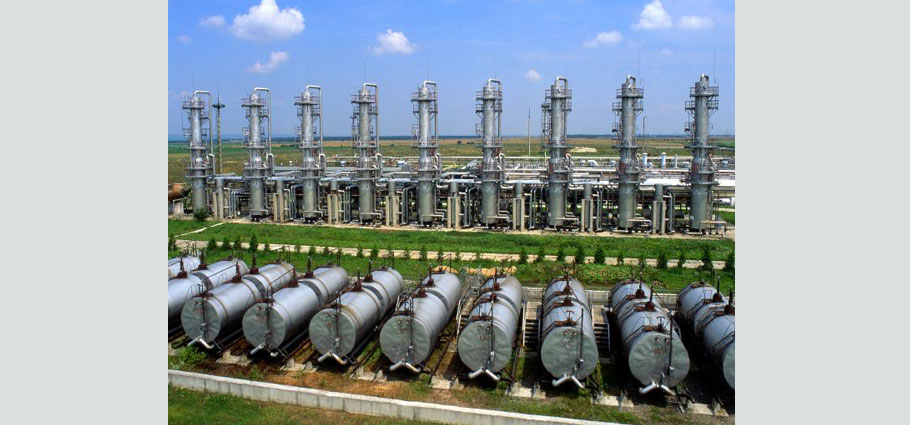 AUTOMATED PROCESS CONTROL DELIVERS SAFETY AND ECONOMY
With an almost static demand from refined oil products, it is chemicals, biofuels and new liquids, along with modern distribution and advanced logistics that are driving the need for enhanced storage terminal development. To satisfy this demand, terminal operators are striving to offer more competitive packages and innovative service excellence to their customers.
A critical element at the heart of any modern, state of the art tank storage terminal is a custom built, full process control system, capable of delivering the all important benefits of safer working, greater efficiency and reduced operating costs.
It's a tall order but eminently achievable, as we have proven in our previous work on tank storage terminals which, in turn, draws heavily on our twenty years' experience in the design and manufacture of monitoring and control instrumentation systems for hazardous environments, mainly in the oil and gas industry.
Fully automated process
Pretty much regardless of size, location or type, the starting point at any tank storage facility is similar; to create and provide a turnkey solution for a fully automated process control system, to provide an exceptionally safe working environment for all processes, while simultaneously ensuring maximum operational efficiency.
The typical outcome is a system that fully automates filling, recirculating, mixing and transferring, allowing operators to control and manage activities, usually from the safety and comfort of a high specification control room.
Designed to reduce terminal labour costs and prevent product wastage, as well as handle safe, simultaneous multiple operations, such a system allows automatic operation of large numbers of storage tanks.
And, it's common that the system will also control waste water tanks, plant water distribution tanks, mixing tanks, weighing stations to facilitate safe and accurate filling of intermediate bulk containers, drums or offshore tanks and an offloading station to handle product arrival and accurate storage location, providing real time data throughout the entire process.
Teamwork essential to success
Clever, intuitive design skills coupled with the latest available technology are absolute pre-requisites for the successful build, installation and commissioning of an automated process control system. Beyond that, we have discovered that effective teamwork is just as essential. On a recent new build facility, we became part of a dedicated project team including management, design engineers, a procurement specialist and site engineers, set up to work with the other key engineering service contractors that built and installed the fabrication, pipework and hardware and the chemical process consultants responsible for the overall plant design.
In approaching any tank storage project, new build or refurbishment, it's essential to prepare and agree an extremely detailed Functional Design Specification, setting out each proposed element of the overall process control system, its function, capability, specification and its integrated application within the facility.
Key features
Typically, key features include the PLC Control System which controls the plant and, along with a SCADA software package and Industrial Programme Controllers (IPCs), provides operators with their main portal for managing operations. The SCADA software is programmed specifically to handle and control all automated processes; it's the key to eliminating operating errors that could give rise to unsafe conditions. It also provides an intuitive, user-friendly interface, making the system easy to use, ensuring smooth, reliable operation on a day-to-day basis.
A custom-built Motor Control Centre (MCC) would normally be integrated to drive all motor/pump sets on site, most likely using the latest Siemens VFD drives, each with SIL2 shutdown capability. With active intelligent control, the Variable Speed Drives allow pumps and fans to run at speeds appropriate for actual demand, slashing energy consumption by up to 50%, delivering significant cost savings.
All the instrumentation, including the Radar Tank Level Sensors, Level Switches, Flow Switches, Temperature Sensors, SIL Instruments, Coriolis and MAG Flowmeters, are specified and installed by our design engineers.
Highly cost effective
Normally, the MCC will be designed within a small footprint, to have as little environmental impact as possible. It will provide control of all of the plant's motors, as well as space for additional drives. Low Harmonic Technology helps to significantly cut back on components such as external chokes and filtering. This delivers impressive space saving, as well as lowering maintenance and service costs, due to the reduced harmonic currents produced.
High Spec Weighing Instruments and Flow Sensors, as well as Advanced Control Routines, measure precisely the volumes of chemicals transferred, producing less wastage and therefore substantial operating cost savings. By eliminating manual measurements, accurate, repeatable transfers are produced, well within specified minimum requirements.
Advanced Level Measurement provides maintenance free, accurate measurement and reporting of the product inventory, allowing the facility operator to manage its product requirements very accurately. Bolt-ons provide information for the client's Inventory Tracking System.
Paramount focus on safety
Safety features typically include ATEX certified systems, along with a Safety Instrumented System (SIS) comprising multiple Safety Instrumented Functions (SIFs). These ensure that if required, the overall operating system can be placed quickly in a "safe state", avoiding adverse consequences.
Several layers of Overfill Protection are employed to minimise the risk of potentially hazardous material spillages. The final layer is commonly a SIL2 Hi Level Switch which can stop the pumps and close all associated valves, to prevent overfill. Advanced Monitoring Techniques would also be employed to detect and prevent any chemical leakage.
Interlocked Static Earth Monitoring Equipment and Enhanced Transfer Control Philosophy would normally be employed to minimise the risk of ignition hazards from static electric build up during chemical transfers. This reduces the risk associated with manual verification of earthing systems.
Flexible approach
For any tank storage facility, we always aim to go above and beyond the customer's expectations. We endeavour to bring to the table the highest level of professional design skills and knowledge, coupled with a strong commitment to effective team working and adaptability to respond to what can often be an evolving brief.
During commissioning and the site acceptance test, Monitor Systems engineers test-operate the plant along with the client team to experience and measure hands-on operational performance and make adjustments and changes to further improve handling and efficiency where possible.
Effective collaboration is vital when working on these projects, especially with such a large range of suppliers, professionals and contractors involved. Running through our DNA is a commitment to develop close working relationships across the whole team. Moreover, the control philosophy can evolve throughout the design and construction phases of the project and so our designers and the control system itself have to demonstrate true responsiveness to adapt to the changing requirements.