Tweet
Group News: August 2015
<
click here
to go back to news and news archives index
Oil and at what cost to us?
(continued from last quarter)
Well the answer is ..... (no). OPEC has decided not to cut oil production despite the fact that prices have tumbled 40% from a year ago.
Due to oversupply and the resilience of shale, it is believed that oil prices are likely to fluctuate between $50 to $70 a barrel for the rest of 2015. While that figure is above the current August 2015 price of $44, it's a huge decline from a few years ago when crude soared to a 'record high' of $107. That said, a barrel of crude oil was lower than $44 for nearly 20 years, from 1987 to 2005.

It's clear OPEC has been caught off guard by the rapid rise of U.S. shale, which has now made the U.S. the world's top oil producer. America is also on track for record crude oil production this year, despite the crash in prices. To some degree, many have underestimated the shale future and technology.
Monitoring Cold Stacked Rigs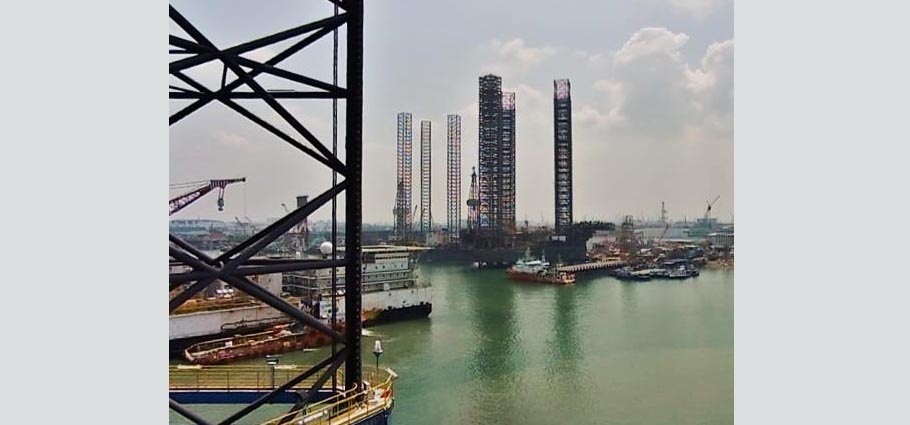 History shows us that the decline in oil prices over a sustained period of time is the primary contributing factor for oil drilling contractors to set about 'cold stacking' rigs. The secondary factor is the cyclical downturn in demand for a given rig design / type.
Many oil contractors look at 'warm stacking' prior to 'cold stacking' rigs, as they hope that the market will turn around quickly, however in a sustained period of reduced oil prices, cold stacking is sometimes the only economical and viable solution until there is a significant recovery.
Cold stacking inevitably means that workers are let go and the rig is completely shut down. Cold stacking a rig involves reducing the crew to either zero or just a few key individuals and storing the rig in a harbour, shipyard or designated area offshore.
Typically, steps are taken to protect the cold stacked rig including the installation of monitoring systems that communicate rig status and critical systems information to locations onshore.
Monitor Systems provides a comprehensive marking and monitoring system that can include GPS Position Monitoring, Intruder Monitoring, Fire and Bilge Alarm Monitoring, Anchor Winch Tension Monitoring, (AIS) Automatic Identification System, all powered by a solar power supply.
Typical Scope of Work: The marking and monitoring of cold stacked rigs involves a comprehensive 'scope of work' that includes Project Management, Conceptual Design, QA & HS&E Management (ISO 9001 Compliant), Engineering and Manufacture, System Testing, Software Interrogation and System Documentation.
Brief Overview / Marking and Monitoring System: The cold stacked rig is 'marked' by the use of navigational obstruction lights and the rigs position is monitored and relayed to a monitoring station in the Port Authority's Office. The stacked rig is also fitted with an Automatic Identification System (AIS) transmitter which transmits its position every three minutes. Our marking and monitoring system can monitor the bilge alarms, anchor winch tensions, fire alarms and intruder monitoring and any other required signals, with signals marshalled into a local process enclosure and terminated onto a wireless I/O module to be transmitted over UHF. The hardware fitted to the unmanned rig is powered by solar/wind power and is fully operational 365 days per year.
For full system details, please click-here